เมนูของร้านอาหาร Barefood Bangkok สุขุมวิท61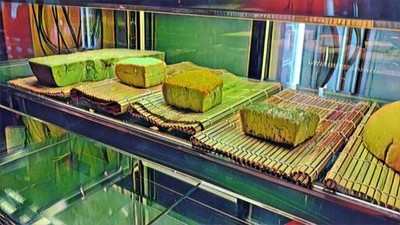 ---
ปิดอยู่
จะเปิดในวันอังคาร เวลา 11:30
เมนู Barefood Bangkok (แบร์ ฟู๊ดบางกอก) สุขุมวิท61

Pure Classic NUTCHEESE
Pure Cashew fermented raw NutCheese 220b per 100g Non-dairy cheese


Mixed Herbs NutCheese
100g piece of fermented cashewnuts cheese with blend of dehydrated herbs(rosemary,thyme,oregano)

Trio NutCheese Platter(3 flavors of the day)
3 flavors of the day (100g total) Toast chips and side fruits

Barefood rice meal##1
RiceBerry marinated and mixed with salad leaves, avocado,Blend CashewNuts , sprouts, tomatoes,extra virgin olive oil.

BokChoyBroccoli Lasagna (homemade pasta)
Fresh Organic whole grain pasta(4flours) layered with BokChoy, broccoli, carrots, onions, celery, CashewNut béchamel and tomato.

Pasta Cavatelli Mushroom nutCream sauce##1
Fresh made Pasta Serve with mushroom nutcream sauce sprinkled of toasted walnuts &parsley

Pasta Cavatelli BockChoy Garlic
Homemade Cavatelli Pasta w BockChoy, garlic,capers,Kraut,chili,and top with cashew Ricotta

Grilled Eggplants top with CashewRiccota&Italian Basil

Tempeh Scramble truffle NutCheese

EggPlant&Tempeh roll Top with Cashew Ricotta
Grilled marinated eggplants wrap with pan fried Tempeh and Top with our Cashew Ricotta cheese

Pan Seared All Plants (Burger) Patty Side Order
Pan seared All Plants patty(zucchini,beetroots, Mushrooms,radish;rice flour,Koji,soy sauce,herbs seasoning dehydrated patty) that you can add onto any of the dishes we sell. Want to add on to Salad, rice Meal, double burger idea, and so on).

Six Pack Veggie Burger Patties

Short Stag CashewCheese Burger&fresh cucumber
Tempeh veggie patty with cashchew cheese added fresh cucumber slices, mustard,koji aioli with wholewheat vegan burger bun.

Cheese Burger(veggies)
Zucchini/beets/mushrooms/radish burger patty grilled and stacked with Smoked oakwood cashewcheese.; roasted onion, salad leaves, tomatoes, Koji aioli, homemade ketchup with whole wheat burger buns.

Smoked Spicy BarefoodbBurger
Zucchini/beets/mushrooms/radish smoked oakwood burger patty stacked with caramelized onions, salad leaves, tomato, fresh onions, chili Koji aioli, homemade ketchup with Whole-wheat burger buns.

Super G
Choose Vegan black charcoal quinoa Broccoli baguette or Muti grain broccoli quinoa baguette or Pumkin mixed seeds baguette for your Sandwich serve with raw Cashewnut creme(non-dairy) varieties of fresh veggies; salad leaves,,capers,sprouts,tomatoes,onions,cucumber tomatoes

BarefoodBangkok RawKraut
Mixed red&white organic Cabbages fermented in sea salt.. simple raw, crisp, good for your tummy while it is yummy. 240ml Glass jar

Fresh Soybean Tempeh
200g pack fresh soybean Tempeh by Tempeh Soya brand.

Ghost Chili Sauce 60ml bottle
"that daeng sauce" Brand made by Eric Nelson. Fermented with thai chilies,red bell peppers, prik cheeFa, Main Ghost Chilies, garlic, shallots,all smoked w mesquite, thai seasalt&thai pineapple vinegar

Pumkin mixed seeds baguette
Greedy Beast Brand Pumkin mixed seeds baguette vegan

Charcoal quinoa Broccoli baguette
Greedy beast brand charcoal quinoa Broccoli

Raw Brownie square
By Banana Warrior brand.cashews, peanuts,cacao, dates

Raw coldpressed juice by lifestyle juicery

Kombucha##1
Ferment variety teas with cane sugar. 187ml flask

Mixed Tomatoes ,avocado, cashew ricotta salad